Shaunee Lyn Tan
The Anatomy of Being Chinese
Engaging the typology of an embassy to navigate and expose western perceptions and prejudices associated with China, the project aims to provide a counter-argument in response to the misconception of the country, the community and myself, a second generation Chinese-British immigrant.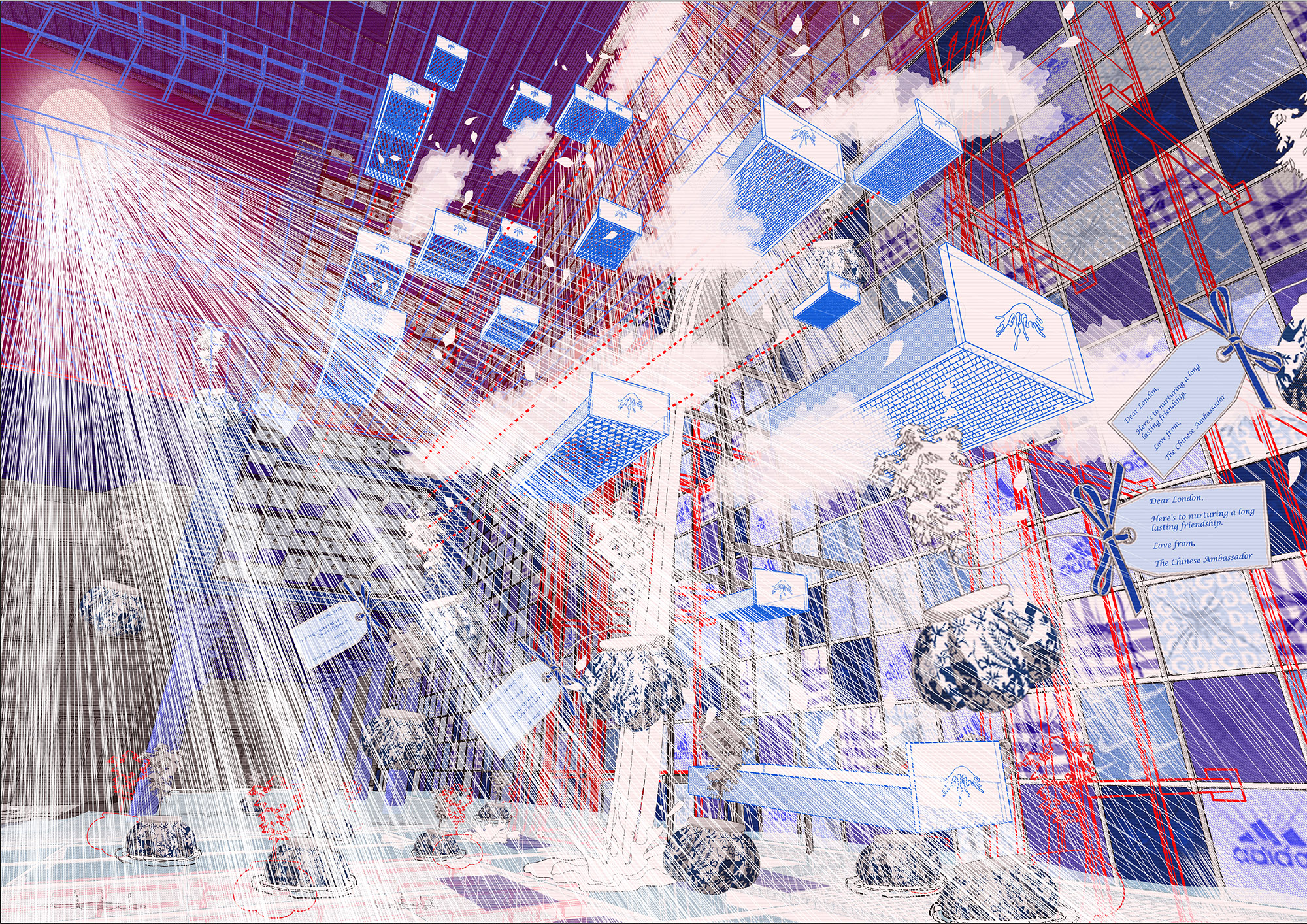 The Chinese Embassy in London embodies the reflection of a traditional courtyard house – a cultural cliché, inward-looking with a fortress-style nature. Its spatial versatility is demonstrated through the changing of its orientation and hence the embassy is reimagined as the home of the Ambassador, whilst providing a full range of diplomatic services. By rotating the courtyard outwards, the personal and vulnerable typology of a home is exposed and welcomes all. It no longer faces towards heaven, but towards humanity.
The Ambassador assumes the traditional role of a 'good host' by upholding key practices of pride in the maintenance of the space, while reaffirming the ideas of spatial fluidity between domesticity and civic. The building materials create an essay of blue – alluding to traditional Chinese porcelain. Due to the pigment's historical worth, the building becomes a symbol of China's investment into cultivating friendship by engaging with peace and tranquillity. It serves as a stark contrast to the current unrest and scrutiny around the country's actions. The notions of care, navigation, transparency, and progress are synthesised into the building functions – collectively representing the nation and what it means to be Chinese, by the Chinese, to the British public.
WHO
Name Shaunee Lyn Tan
Role Student
Programme (and Unit) MArch PG U10
Department The Bartlett School of Architecture
LABORATORY
A growing archive focusing on work created by students and staff across the Bartlett
view all
Share your references and work with us! Help shape our collective curriculum.
Get in touch!